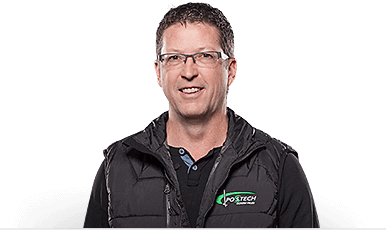 Postech Saskatoon
Andy Theoret
LET US CALL YOU :
Simply complete the following information and a Postech Screw Piles representative will contact you in the next few days.
If your project is urgent, please contact us by phone today!
Learn more about us
POSTECH SCREW PILES
Postech Saskatoon has provided quality installations and unequalled service in the city of Saskatoon for many years.
Having spent 19 years in the home building industry, Andy Theoret was impressed with the reliability of Postech Saskatoon's galvanized screw piles against frost heaving. So when the previous dealership owner indicated that he was thinking of selling, Andy seized the opportunity immediately.
Andy is a true entrepreneur. He believes in offering his clients one of the best guarantees on the market and the prices are always competitive for the quality installations and high-end components he provides.
Contractors in the Saskatoon area are famous for the high quality of their work and they use Postech Screw Piles in their projects because they know they are starting on a solid foundation!
Andy Theoret is well known for providing excellent customer service and value to his clients.
Postech Screw Piles: Start off on a solid foundation!
Postech Screw Piles Saskatoon
EXPERTS IN GALVANISATION
All Postech Screw Piles are galvanized according to ASTM A123M.
This is a major consideration when looking into screw piles. When comparing Postech Screw Piles to others, you need to be very aware of this.
To help you get a better sense of the importance of galvanized screw piles we have compiled some tips and information about galvanization you might find useful.
Galvanisation
Real world installs
See our latest projects
Projects by Postech Saskatoon