Outdoor fireplaces
When the temperature drops after sunset, outdoor fireplaces are the ideal solution to gather around the fire and enjoy their warmth.
Here are some suggestions available on the market.
Small installations
A simple wood or gas brazier. This garden furniture is efficient and reliable to use. It provides maximum heat output and settings for a comfortable temperature, not to mention it is practical and safe.
The bioethanol chimney. It is pratical, maintenance free and extremely aesthetic. This installation is the ideal solution for those wanting to enjoy the benefits of a fireplace without the hassle. This fireplace is more adaptable than the wood braziers and can also be used to embellish your decor.
Wood-burning fireplaces
Volcanic stone block fireplaces:
You can easily install them and they can be moved as needed. They will allow you to prolong summer in your yard.
Stainless steel fireplaces:
Known for their durability, since their surface is designed to withstand the elements.
Patio Heaters
Patio heaters blend in perfectly with any decor. You will surely appreciate them, as they will keep you and as well as nearby objects, rather than just the surrounding air. Even when the wind is particularly cold, you will feel it's warmth.
Electric models
The electric patio heaters, usually installed in shelters, can be fixed to the structure of the shelter or installed on a stand. The heat tends to stay at the top which helps warm the whole structure.
The electric patio heater is also suitable for gazebos and covered balconies. You can find models saucer-shaped to hang like a chandelier, as well as rectangular models to be fixed to the wall and others with a base. Unlike propane patio heaters, they do not emit carbon monoxide. You can find a model here.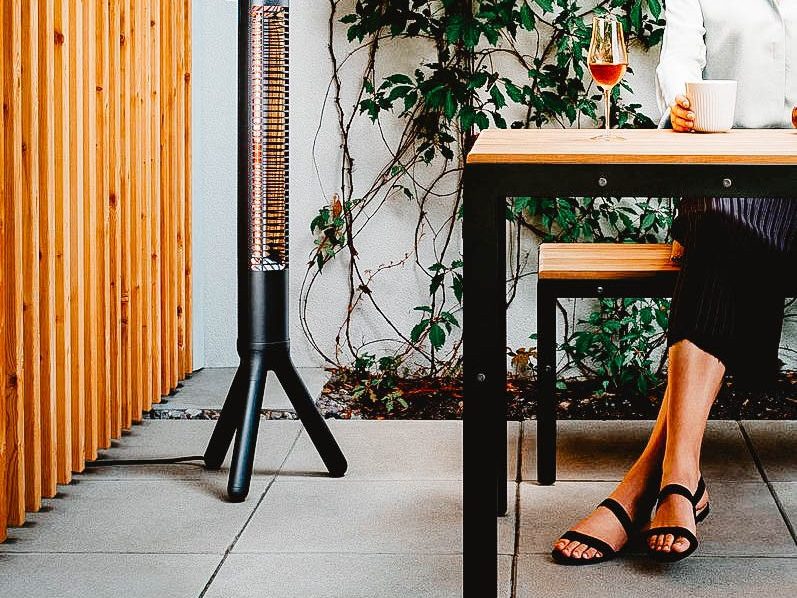 Propane gas models
Did you know that propane patio heaters are not made to be in a completely enclosed area like a gazebo, which can be an advantage for warming your outdoor space when you are in a group. They are usually on wheels to allow easy maneuverability. You can find a model here.
Pergolas
Gazebo-type garden sheds provide protection against bad weather. The curtains, installed in all four corners, offer protection against strong breezes. This installation is ideal for covering a specific location in your yard. Whether it's for a family supper or just enjoying the outdoors; the pergola provides comfort and privacy in your favorite spot. They are a great way to prolong summer in your yard!
You haven't built your dream patio yet? There is still time to call your Postech Screw Piles' certified installer! Did you know that screwed piles can be installed even in colder periods, allowing you to take advantage of a lower number of demands without compromising service quality. Your new patio will thus rest on a solid and durable foundation that will withstand our Canadian winters.